Thursday, September 15, 2005
WE SAID EXORCISE, NOT EXERCISE
By Stockton
VATICAN CITY (Reuters) - Orthodontists have national conventions, as do lawyers and computer salespeople. So why not exorcists? At the end of his weekly general audience Wednesday

Pope Benedict' name greeted Italian exorcists who, he disclosed, are currently holding their national convention.

The Pope encouraged them to "carry on their important work in the service of the Church."
Problem was that until the Pope spoke few people outside the inner circle knew that a convention of Beelzebub-busters was going on, presumably in Rome.

And where were they holding it? In a church, a hotel, a graveyard?
"They try to keep these things quiet," said a Catholic professor who has dealings with exorcists.
"We always have a hell of a time," said Father Anthony Matiniano. "There's the lectures of course, but that's just half of it. We throw holy water balloons, pretend to spin our heads all the way around...things like that. Last year, Father Thomasino turned the thermostat down to 35 so it got real cold and you could see your breath. Then he pretended to throw up. It was hilarious."
Special guest speakers included:
Regan McNiell
and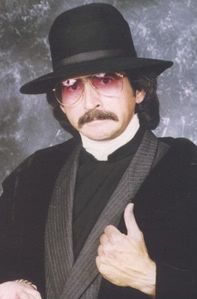 Father Guido Sarducci
The convention was not without controversy. Outside, an advocacy group for homeless demons protested the gathering.