Friday, July 22, 2005
MARRIAGE AND DIVORCE
By Stockton
Wedding bells aren't ringing, but neither are phones of divorce lawyers
By Sharon Jayson, USA TODAY

Divorce is on the decline in the USA, but a report to be released today suggests that may be due more to an increase in people living together than to more lasting marriages.


Couples who once might have wed and then divorced now are not marrying at all, according to The State of our Unions 2005. The annual report, which analyzes Census and other data, is issued by the National Marriage Project at New Jersey's Rutgers University.
Many experts insist that one man is responsible for the decline in both marriage and divorce: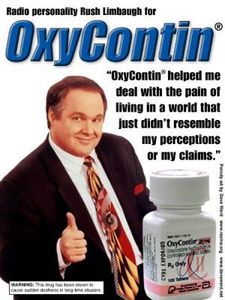 Ever since the thrice married, thrice divorced beacon of family values was revealed as a junkie, he has eschewed romance, thus simultaneously lowering the divorce and marriage rate.
Friend James Dobson believes Limbaugh's marriage days are over. "We all know Rush has a great respect for marriage," said Dobson. "Why else would he do it three times. Unfortunately, the Massachusetts courts has rendered Rush's three marriages meaningless. Gay marriage has destroyed whatever sanctity Limbaugh's three marriages may have had."