Friday, July 15, 2005
BUSH TRIES TO GET JIGGY WITH IT
By Stockton
Ripped from the headlines:
Bush Aims to Woo Blacks at Ind. Gathering
By NEDRA PICKLER, Associated Press Writer
INDIANAPOLIS -

President Bush' nametried to woo blacks in a supportive Indiana crowd Thursday while, for the fifth time skipping the NAACP annual convention. Bush hasn't spoken to the National Association for the Advancement of Colored People's convention since he first ran for president in 2000 and the NAACP National Voter Fund ran an ad that portrayed him as unsympathetic to the dragging death of a black man in Texas.

Instead he has reached out to minority audiences less critical of his policies. This year, he accepted an invitation to speak to the Indiana Black Expo, which presented him with a lifetime achievement award for his efforts to help former prisoners become productive members of society and other programs benefiting minorities. The NAACP convention was under way 250 miles away in Wisconsin.

Bush brought a message of opportunity for all Americans, including blacks, to own homes and businesses and to share in the country's prosperity. He took credit for narrowing the gap in test scores between black and white elementary school students, according to test results released Thursday by the Education Department.

"I see an America where every citizen owns a stake in the future of our country and where a growing economy creates jobs and opportunity for everyone," the president said, his voice echoing in the cavernous RCA Dome, where more than 3,000 people packed luncheon tables on the floor below empty stands.

White House press secretary Scott McClellan said Bush has already accepted the invitation to speak in Indianapolis when the NAACP asked him to speak at their convention in Milwaukee. McClellan said it's too soon to say if Bush will attend the convention next year in the District of Columbia — an invitation that NAACP Chairman Julian Bond announced Sunday, a year in advance.

The NAACP selected a new president, retired Verizon executive Bruce S. Gordon, who has pledged to build relationships with the White House. McClellan said he was certain that Bush would find time to sit down for a talk with Gordon.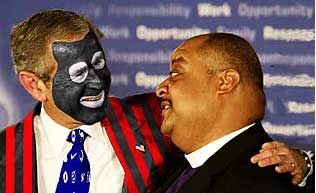 Bush Wooing Blacks
On the issue of Affirmative Action, Bush took pains to declare that he "Does not believe in quotes, but had nothing against affirmatively acting to help regular people as well as blacks."
He also pointed out the steps his administration has taken to
create jobs for blacks
.
In unrelated news, a new Neo-Fascist organization is reaching out to Jews.