Friday, July 22, 2005
WEEK HIATUS
For our loyal reader: Stockton will be at his house on Cape Cod for the next week. After all, that's what we liberal elites do! Tweed may be posting but his hands are filled right now with his upcoming parole hearing. Third time's a charm.

See you in August.

MARRIAGE AND DIVORCE
By Stockton
Wedding bells aren't ringing, but neither are phones of divorce lawyers
By Sharon Jayson, USA TODAY

Divorce is on the decline in the USA, but a report to be released today suggests that may be due more to an increase in people living together than to more lasting marriages.


Couples who once might have wed and then divorced now are not marrying at all, according to The State of our Unions 2005. The annual report, which analyzes Census and other data, is issued by the National Marriage Project at New Jersey's Rutgers University.
Many experts insist that one man is responsible for the decline in both marriage and divorce: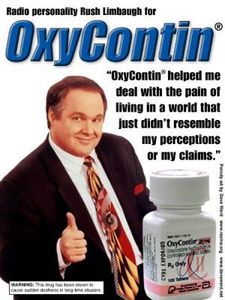 Ever since the thrice married, thrice divorced beacon of family values was revealed as a junkie, he has eschewed romance, thus simultaneously lowering the divorce and marriage rate.
Friend James Dobson believes Limbaugh's marriage days are over. "We all know Rush has a great respect for marriage," said Dobson. "Why else would he do it three times. Unfortunately, the Massachusetts courts has rendered Rush's three marriages meaningless. Gay marriage has destroyed whatever sanctity Limbaugh's three marriages may have had."
Wednesday, July 20, 2005
AN ORDER OF SALVATION, AND SUPERSIZE IT!
By Stockton
Thousands Gather to Celebrate Megachurch
By KRISTIE RIEKEN, Associated Press Writer Sun Jul 17,

HOUSTON - America's largest church celebrated its move into the former arena for the Houston Rockets with a capacity crowd of 16,000, an upbeat sermon from its televangelist pastor and a spirited welcome from the governor of Texas.

"How do you like our new home?" Lakewood Church pastor Joel Osteen asked to thunderous applause. "It looks pretty good doesn't it? This is a dream come true."
The new home for the nondenominational Christian church is the former Compaq Center, once home to the Rockets.

There were no vacant spots in the arena as Lakewood, which recently became the first church in the United States to average more than 30,000 worshippers weekly, held its first service there Saturday night. The service also was televised live.

Gov. Rick Perry praised the church's new look and told the crowd, "As lawmakers we do a lot of things, but only the church can teach people to love."
As Governor Perry noted, the church will be holding love clinics on the third Monday of each month. Attire is casual.
In addition, the Mega-Huge-Super Church will offer a drive-through funeral service, an Apostolic Hair Salon and a dental service whose slogan is "Jesus Even Flossed after the Last Supper!"
Some have criticized the opulence of the church. However, Pastor Osteen says the project is scripturally sanctified. According to Osteen, the Biblical passage wherein 'Jesus commands his followers to sell all their worldy possessions' has been mistranslated from the original Greek. The passage really read: "Build Ye' a big-ass church in the land of the Cowboys and Rangers and don't forget to grab a good television deal."
In unrelated news, a new study finds that church size is inversely proportional to the average male congregationalist's penis size.
Monday, July 18, 2005
BUSH TO GO MAINSTREAM
Friday, July 15, 2005
BUSH TRIES TO GET JIGGY WITH IT
By Stockton
Ripped from the headlines:
Bush Aims to Woo Blacks at Ind. Gathering
By NEDRA PICKLER, Associated Press Writer
INDIANAPOLIS -

President Bush' nametried to woo blacks in a supportive Indiana crowd Thursday while, for the fifth time skipping the NAACP annual convention. Bush hasn't spoken to the National Association for the Advancement of Colored People's convention since he first ran for president in 2000 and the NAACP National Voter Fund ran an ad that portrayed him as unsympathetic to the dragging death of a black man in Texas.

Instead he has reached out to minority audiences less critical of his policies. This year, he accepted an invitation to speak to the Indiana Black Expo, which presented him with a lifetime achievement award for his efforts to help former prisoners become productive members of society and other programs benefiting minorities. The NAACP convention was under way 250 miles away in Wisconsin.

Bush brought a message of opportunity for all Americans, including blacks, to own homes and businesses and to share in the country's prosperity. He took credit for narrowing the gap in test scores between black and white elementary school students, according to test results released Thursday by the Education Department.

"I see an America where every citizen owns a stake in the future of our country and where a growing economy creates jobs and opportunity for everyone," the president said, his voice echoing in the cavernous RCA Dome, where more than 3,000 people packed luncheon tables on the floor below empty stands.

White House press secretary Scott McClellan said Bush has already accepted the invitation to speak in Indianapolis when the NAACP asked him to speak at their convention in Milwaukee. McClellan said it's too soon to say if Bush will attend the convention next year in the District of Columbia — an invitation that NAACP Chairman Julian Bond announced Sunday, a year in advance.

The NAACP selected a new president, retired Verizon executive Bruce S. Gordon, who has pledged to build relationships with the White House. McClellan said he was certain that Bush would find time to sit down for a talk with Gordon.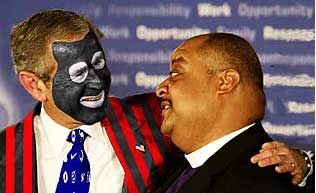 Bush Wooing Blacks
On the issue of Affirmative Action, Bush took pains to declare that he "Does not believe in quotes, but had nothing against affirmatively acting to help regular people as well as blacks."
He also pointed out the steps his administration has taken to
create jobs for blacks
.
In unrelated news, a new Neo-Fascist organization is reaching out to Jews.
Wednesday, July 13, 2005
BOSTON CAUSES PRIESTS TO FONDLE CHILDREN
By Stockton
After years of trying to find the root cause of child molestation, especially by Catholic priests, Rick Santorum has discovered that root cause: The City of Boston. According to Santorum:
"The basic liberal attitude in that area . . . has an impact on people's behavior," Santorum told the Boston Globe yesterday. ''If you have a world view that I'm describing [about Boston] . . . that affirms alternative views of sexuality,
that can lead to a lot of people taking it the wrong way
....I was just saying that there's an attitude that is very open to sexual freedom that is more predominant in Boston."
"Look at the Boston Tea Party," said Santorum. "A group of men, dressing up, late at night. Were they really dumping tea into the harbor? Don't be naive."
Santorum went on to note more evidence that Boston leads people to take it the wrong way:
1) It is well documented that Paul Revere had a "special" relationship with his horse;
2) All those frilly lace collars and cuffs during the 18th Century;
3) John Han
cock
.
4) The Minute Men;
5) The Big Green Monster;
6) Mike Dukakis.
Sy Goldberger has first hand knowledge of the phenomenon and agrees with Santorum. "I like to consider myself as straight as an arrow. After all, I'm a happily married 57 year old Jewish man. My wife and I decided to spend a weekend in Boston. Within minutes of just walking through Cambridge, right near Harvard, an overwhelming desire to bend over and be sodomized took me. Needless to say, Ruth and I left immediately. It was a close call. I'll never go back there again. And even if I do, which I definitely wont, I won't bring Ruth."
Asked about the GOP mantra of personal responsibility, Santorum said, "We only use that when it's convenient."
The City of Boston is now being named in priest/sex scandal cases for 'fostering an atmosphere that is molestation friendly'.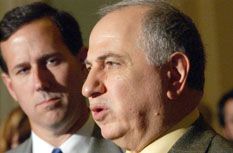 Santorum, seen here, gazes meaningfully
at Mr. Chalabi
Monday, July 11, 2005
EVERYTHING IS BACK TO NORMAL
By Stockton
After September 11, 2001, many of us wondered if the United States of America would ever return to those innocent days of pre-9/11. Would we ever be the same? Would we ever recapture our true American selves?
Bad Vernacular is proud to announce that
America is back
!
Body of Steelers Fan Viewed in Recliner
Wed Jul 6, 2005
PITTSBURGH

James Henry Smith was a zealous Pittsburgh Steelers' fan in life, and even death could not keep him from his favorite spot: in a recliner, in front of a TV showing his beloved team in action. Smith, 55, of Pittsburgh, died of prostate cancer Thursday. Because his death wasn't unexpected, his family was able to plan for an unusual viewing Tuesday night.

The Samuel E. Coston Funeral Home erected a small stage in a viewing room, and arranged furniture on it much as it was in Smith's home on game day Sundays.

Smith's body was on the recliner, his feet crossed and a remote in his hand. He wore black and gold silk pajamas, slippers and a robe. A pack of cigarettes and a beer were at his side, while a high-definition TV played a continuous loop of Steelers highlights.

"I couldn't stop crying after looking at the Steeler blanket in his lap," said his sister, MaryAnn Nails, 58. "He loved football and nobody did (anything) until the game went off. It was just like he was at home."
Additionally, many people criticize the media today, questioning their professionalism, competence and dedication. Well, our own Tweed may have died 4th of July weekend but for this timely bit of journalism.
Experts warn of risky silicone 'pump parties'
By Marty Graham Tue Jul 5, 2005

SAN DIEGO (Reuters) - A dangerous underground of "pump parties" has sprung up around the country catering to transgender individuals seeking more feminine features through cheap -- sometimes deadly -- black-market silicone injections, experts say.

Two San Diego transgender women were near death on Friday after unlicensed practitioners injected them with liquid silicone at a "pump party" five days earlier, officials said.
Police are searching for a Los Angeles-area woman suspected of injecting as many as a dozen people at two parties that day. None of those at the second party has contacted police.

The two injured women, aged 30 and 45, are among hundreds, perhaps thousands, of people who have sought the illegal treatments to save money and to avoid dealing with the medical establishment, experts say. Their goal is to make their hips, lips, cheeks and buttocks appear more feminine.

"I've been hearing about pump parties for many years but more in the past few," said Dr. Walter Bockting, the coordinator of transgender health services at the University of Minnesota's Center for Human Sexuality. "Being beautiful and shapely is very important to certain segments of the transgender community -- it's a self-esteem builder for people who are feeling rejected by their families and communities."

At pump parties, groups of patients typically receive silicone injections from an unlicensed, untrained person who is often using non-medical silicone. Costs tend to run between $200 and $1,000 per treatment, police said.
Needless to say, Tweed canceled the party.
Saturday, July 09, 2005
NEW LINKS
It's been awhile since we added anyone new to Bad Vernacular so here it goes.
Say hello to
Ellen
and
PSoTD
. There, that wasn't hard.
Friday, July 08, 2005
SENATE JUDICIARY HEARING
By Stockton

With one, possibly two, openings on the Supreme Court, many of you no doubt wait with anticipation for the Senate Confirmations Hearings. Well wait no longer. Here's a sneak preview. Honestly, don't we all know how they'll go?

Senator Hatch: Judge X, thank you for your time. I know it has been a long day and you must be tired. I'll get right to my questions. I'll keep them brief because it's late and I know you must have better things to do than to listen to another Senator drone on and on and on and on....

Judge X: Thank you Senator.

Senator Leahy: Judge X, if you were a tree, what kind of tree would you be?

Senator Hatch: and on and on and on...

Judge X: I think it would be inappropriate for me to commit on a hypothetical, Senator Leahy. Let me just say this: I would like to be a Scotch Pine....

Senator Kennedy: Did you say Scotch?

Judge X: or maybe a Blue Spruce. But let me be clear. Those are two types of trees I'd like to be. I am not saying that if I were a tree, I would be a Pine or Spruce. I'm saying that I would like to be either of those two trees.

Senator Coburn: Would you, Judge X, as a Pine or Spruce, have strong Christian roots?

Judge X: The strongest, senator.

Senator Sessions: Judge X, in your opinion, was Brown v. Board of Education a colossal mistake or a devastating disaster?

Senator Biden: Excuse me, Judge X. I have to update my blog.

Senator Schumer: Judge X, is there room in your forest of Scotch Pines and Blue Spruces for trees with Jewish roots or Islamic roots?

Senator Feingold: Hey, that was my question.

Judge X: Uhmm, of course Senator....

Senator Cornyn: Any Box Turtles running around in that forest, Judge X?

Judge X: I....Box Turtles?

Senator Kennedy: I, ah...am...ah positive that someone said Scotch.

Senator Brownback: Getting back to the issue at hand, Judge X, is it your opinion that a...say an acorn...is an acorn already an oak? Or does an oak have different rights than an acorn?

Judge X: That decision should really be left up to the states. The Constitution does not make any reference to foliage. None whatsoever.

Senator Coburn: Were you aware that over 1,000,000 acorns a year are systematically slaughtered while we stand by and do nothing?

Judge X: Uhm....no....I wasn't...

Senator Kennedy: Maybe a Dingo ate your acorn...

Senator Hatch: and on and on and on.

Senator Feinstein: Judge X, will you tell us your name.

Senator Coburn: Typical Liberal. Trash him why don't you.

Thursday, July 07, 2005
FOR OUR BRIT FRIENDS
Our thoughts are with you.
Tuesday, July 05, 2005
YOU DONE GOUDA
By Stockton
Today in Denmark,
President Bush thanked the Danish
people for their contribution in the Iraq War.
"You've done America and the world a valuable service. You've done
Gouda
,"
said the President. Bush went on to call Denmark a country "shaped like a mitten."
The President, upon learning that Gouda is a Dutch cheese, laughed off the faux pas. "I knew that, I was just seeing if you were paying attention."
Ironically, many see the War in Iraq as comparable to the Danish cheese, Port Salut, a semi-soft cheese with an offensive aroma that has difficulty aging.
Saturday, July 02, 2005
THE CONSTITUTIONALITY OF BARE BOOBS
By Tweed
A Florida woman has taken a courageous stance against our male-dominated society by contesting the constitutionality of laws prohibiting females from baring their breasts, while unfairly allowing men to show theirs.
THE ASSOCIATED PRESS
DAYTONA BEACH - A woman who won a court fight over her right to bare her breasts in public plans to protest topless Saturday at a city auditorium. Elizabeth Book planned to stage the protest at the Peabody Auditorium next to three statues of women nude from the waist up.
"I will be as top-free as the statues," Book said Monday in an e-mail to the nudists and naturists who have supported her cause. "This is not over until Daytona is forced to recognize the unconstitutionality of their ordinances and statutes aimed at the American woman's breasts."
Volusia County Judge David Beck ruled that Book was within her rights when she bared her breasts as part of a political protest during Bike Week in March 2004.
The city's anti-nudity ordinance allows an exemption for nudity that is part of a political protest or other constitutionally protected issue, Beck said, throwing out her arrest and fine for $253. The city passed the rule in 2002 to curb indecency at special events.
We at Bad Vernacular are supportive of nearly all movements toward freedom and equality. And while, at first blush, Ms. Book's efforts may appear to be well worth her efforts. . .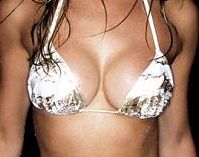 . . . we believe that the notion of bare breasts deserves a more careful constitutional analysis.
We at Bad Vernacular feel that while constitutional, the right to bare one's breasts must be subject to a certain level of restraint, as demonstrated here by Stockton: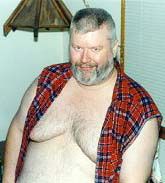 But parsing the constitutional issues raised by bare breasts is difficult at best. Constitutional rights can frequently be plainly stated - such as the right to free speech; but the ultimate application of that right in everyday life can be difficult. Just as we can see the justification for denying constitutional protection to yelling "fire!" in a crowded movie theatre, we can see the justification for restraining the baring of one's breasts under certain circumstances. Indeed, there are easy cases, such as the
Galloway
case and
Betram
case:
U.S v. Galloway, 387 US 877 (2002):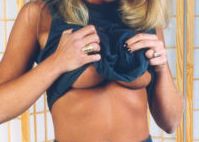 U.S. v. Bertram, 38 F.3d 684 (5th Cir. 1999):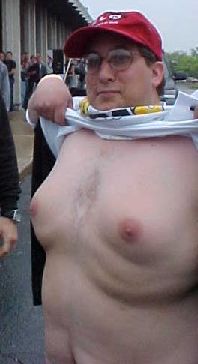 But other times, seemingly unconstitutional behavior is actually constitutional. Like all rights, the right to bare one's breasts must be afforded great protection, and the restraints on that right must be carefully tailored. These cases must be carefully reviewed and scrutinized under the appropriate standard for this right.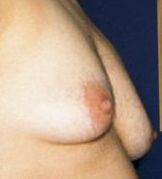 But we must be cognizant of the fact that sometimes acts that appear within the broad borders of constituionally protected conduct may, in fact, constitute the most flagrant violations of that sacred document - making a mockery of the right protected.
Your loyal servants, Stockton and Tweed, will be ever vigilant in supporting the appropriate exercise of this right.