Wednesday, June 29, 2005
TIGGER AND PIGLET DEATHS LINKED
By Stockton
This past weekend the entertainment community mourned the death of
Tigger and Piglet
, those two lovable friends of Pooh. Tigger passed away on Friday, June 24, followed closely by his little porcine buddy Piglet on the 25th of June. No cause of death has been given.
Although well-loved by all, their passing may have remained a poignant coincidence except for Bad Vernacular's intrepid investigative team.
Tigger and Piglet had more than their deaths in common. They were also both in Dallas on the afternoon of November 22, 1963.
After sifting through hours of film and photographic archives, these startling photographs were discovered. Be forewarned, they are not for the fainthearted.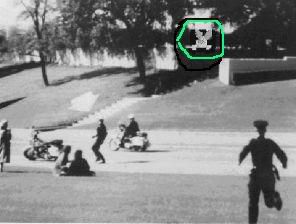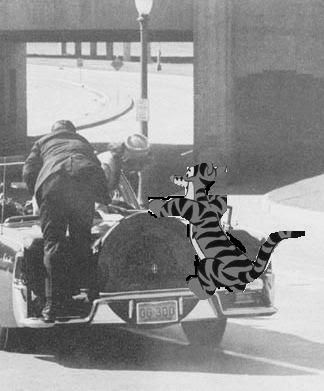 Senator Arlen Specter, counsel to the Warren Commission was outraged. "We never saw these photographs. This raises so many new questions. Why weren't they ever subpoenaed to testify?" Specter declined to say whether or not Congress would investigate.
Pooh could not be reached for comment.