Thursday, June 30, 2005
ANNOUNCEMENT!
COMING SOON - 300 ROOM LUXURY RESORT
Wednesday, June 29, 2005
TIGGER AND PIGLET DEATHS LINKED
By Stockton
This past weekend the entertainment community mourned the death of
Tigger and Piglet
, those two lovable friends of Pooh. Tigger passed away on Friday, June 24, followed closely by his little porcine buddy Piglet on the 25th of June. No cause of death has been given.
Although well-loved by all, their passing may have remained a poignant coincidence except for Bad Vernacular's intrepid investigative team.
Tigger and Piglet had more than their deaths in common. They were also both in Dallas on the afternoon of November 22, 1963.
After sifting through hours of film and photographic archives, these startling photographs were discovered. Be forewarned, they are not for the fainthearted.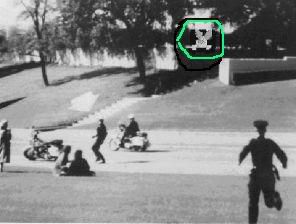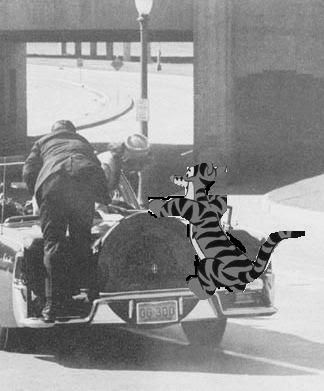 Senator Arlen Specter, counsel to the Warren Commission was outraged. "We never saw these photographs. This raises so many new questions. Why weren't they ever subpoenaed to testify?" Specter declined to say whether or not Congress would investigate.
Pooh could not be reached for comment.
Monday, June 27, 2005
ARUBA SEEKS NEW SLOGAN
By Stockton
In the wake of the disappearance of Alabama high school senior Natalee Holloway, Aruban officials are scurrying to salvage the tiny Caribbean island's image. Some officials believe the island's old slogan, "Aruba, the safest place in the Caribbean" might be outdated.
"We need to change with the times," said Aruban Director of Tourism, Hjmr van Pelt. "We want our slogan to be fresh and new but also honest. We don't need to lose any more credibility."
The Ministry of Tourism is close to selecting the new slogan. The favorite, says van Pelt, is "
Aruba, a nice island where hardly anyone is ever murdered or disappears
". The runner up is "
Aruba, you have a lot better chance of being killed in Mexico
." The new slogans are currently being tested.
Aruba, safer than Washington D.C

.
Sunday, June 26, 2005
ATTORNEY GENERAL LIBERATES NIPPLE OF JUSTICE
By Stockton
In a move that highlights the fanatical degree of his predecessor's rightwingery, rightwing Attorney General Alberto Gonzales has removed the curtains that shrouded justice for the past few years.
After more than three years of being blocked by large blue drapes, two Art Deco aluminum statues of semi-nude figures in the building's Great Hall can be seen again. The "Spirit of Justice" and the "Majesty of Justice," which loom over the stage in the Great Hall, were blocked from view by curtains installed by the department in January 2002, when former Attorney General John Ashcroft was in office. The curtains were quietly removed on Friday after a decision by Attorney General Alberto Gonzales, Justice Department spokesman Kevin Madden said.
It was also learned that both statutes had undergone sleep deprivation, were subjected to Christian rock music and were otherwise humiliated during Ashcroft's tenure at the Department of Justice. One report revealed that an unnamed Ashcroft aid flushed a copy of the Constitution down the toilet in the presence of the two statues.
Gonzales disputes reports that the curtains were removed as a 'dig' at Ashcroft. "We simply learned all there was to learn from these two detainees," said the Attorney General. "Then we released them."
Unknown man demonstrates how he held the
statues after the night cleaning crew had left
the building
FUN FACT
: Attorney General Alberto Gonzales is 23x's more spicey than the last two attorneys general.
BAD VERNACULAR'S RETURN
Editors

In preparation for the return of Bad Vernacular, we have endorsed not just a candidate for 2008, but an entire ticket. Our selection process was rigorous. We sorted through many photographs until we found just the right combination: northerner - southerner, House - Senate, brunette - blond.

America is ready for this ticket! Nay, America aches for this ticket. Please join us in our fight.