Wednesday, March 30, 2005
CHENEY IN 08
Editors
Word on the street is that there is an effort to recruit
Vice President Cheney
for the top of the ticket in 2008.
Stockton and Tweed, the team that has brought you such fine products such as
Bad Vernacular
and
Lickin' Bush in 04
, are please to announce the
planned launch
of their
new website
on January 1, 2008:
Lickin' Dick in 08.
Have fun, ladies.
Tuesday, March 29, 2005
NEWS WRAP-UP
By Stockton
The Editors would like to apologize to our reader for the sparse posting of late. Community service is taking up much of my time and Tweed is standing vigil outside Tom Delay's home. Much has happened in the past week. So here's a news roundup:
Michael Jackson
In a shocking admission during his trial for child molestation, Michael Jackson admitted that Billie Jean was indeed his lover and not, we repeat not, just a girl he knew. And the kid is his son.
Focus on the Family
After weeks of intense criticism from Christian James Dobson, a teary-eyed Sponge Bob has finally admitted that he and Patrick are "more than friends." The admission came on an episode of The 700 Club.
Bob & Patrick, more than friends
The beloved cartoon character will be spending the remainder of the Spring
here
, in the hopes that he can pray away the gay.
Election 2008
Bad Vernacular had thought it had a Democratic dream ticket in Herseth - Landrieu until Elwood at
Windy City Blues
nominated Debbie Schultz of Florida.
Even if she doesn't make the ticket, I think we may have our Secretary of State.
Wednesday, March 23, 2005
CONGRESS ORDERS FEEDING TUBE REINSERTED
By Stockton

In a desperate, last ditch effort to prolong life, Congress has ordered that the feeding tube be reinserted into President Bush's Social Security Plan.

The decision was based, in part, upon affidavits from those who helped craft the legislation.

"I visit everyday," says Jason Hoblock, a White House Domestic Affairs advisor. "You should see the way it responds to me. It tries to communicate, smile, laugh, create private accounts. I know it wants to dismantle social security. I see that when I look into its eyes. I hope it has that chance."

Others argue that the plan should be allowed to die with dignity. Even some Republicans agree. "I know what you see on television," said one anonymous republican. "President Bush and even McCain are out there like nothing's wrong. I've spoken with numerous physicians and they tell me it's a lost cause."

Experts suggest that the actions of President Bush and Senator John McCain to "sell" the plan to the American people are nothing more than involuntary reflexes and not signs of normal, cognitive functioning.

"It's like a chicken that has its head cut off," says John Talbot, Professor of Social Policy at the University of Virginia. "The chicken can actually twitch for up to 45 seconds after decapitation. That doesn't mean the chicken is alive."

Monday, March 21, 2005
HOUSE, SENATE, WHITE HOUSE PREPARE FOR BUDGET NEGOTIATIONS
By Tweed
Republican leaders of the House and Senate and the White House have agreed to a somewhat unusual approach to hammering out their differences over this fiscal year's budget: hire independent negotiators.
The idea sprung up earlier this week as representatives from the two branches began talking about their differences. "We quickly realized that there were great differences among us," said House Speaker Hastert, "and that it was best for the country to avoid displaying intra-party bickering." "We thought it best that third parties take hold of this process," added Senator Frist.
The Senate republicans have announced that their negotiator will be long-time Republican and consumate Washington Insider, Bob Dole. "We chose Mr. Dole because. . . . well. . . because he'll do just about anything for money," said Senator Santorum.
Dole's Last Successful Campaign
"Bob Dole's serving his country again," said Mr. Dole, "and Bob Dole doesn't take any shit from anybody - especially any weak-kneed girly men from Texas. And stop lying about my penis."
The House republicans have taken a slightly different route. "We've got a great one," said Congressman Tom Delay, who has been instrumental in the House republican search. "We got Abdul -el Alsurnami - he's from Cairo. Everybody knows them Arab traders'll sell ya the hair offa yer own back."
el-Alsurnami with his Wares in Cairo
Through a translater el-Alsurnami said that he was very excited about the position and hoped that he could unload fifty persian rugs and six white virgins in the process: "My prices best in town - best in town!" said el-Alsurnami, in broken English.
The White House search was said to be led by the President himself, and has resulted in a new career for TV personality Monty Hall. But, unlike the House and Senate negotiators, Monty Hall has joined the President on his US tour promoting his plan.
Monty Asking Sharon Hicks to Try a Personal Account
Early reports indicate Hall's addition to the President's team have been succesful. "I thought it was great seeing Monty again," said Sharon Hicks, one of the hand picked "townsfolks" for one of the President's orchestrated "Townhall" style events. "Monty asked me if I wanted to stick with my social security plan or go with the president's plan, the particulars of which were in a box. I was so excited. . . I couldn't make up my mind! Then I chose the box and won a Ford Escape!"
Friday, March 18, 2005
ABC ANNOUNCES NEW REALITY TV SHOW
By Stockton
Following in the grand tradition of Reality Television, ABC has announced the gem in its Fall Lineup: The New Odd Couple.
A down on his luck former child actor needs a place to stay. A down on his luck former athlete needs a roommate to make ends meet. Can they survive without killing each other? Tune in to the New Odd Couple.
Starring O.J. Simpson
And Robert Blake
Tune in for Episode One, "The Blind Date"
Depressed over losing his handgun, Bobby is cheered-up when O.J. surprises him with a brand new, untraceable, Smith & Wesson. Touched by the gift, Bobby gives OJ a complete set of Dexter Russell Professional Cutlery. Then, the boys set out for a blind date with Jessica Simpson and Paris Hilton. Hilarity ensues. Will the girls ever be seen again? Will anyone care? Tune in on Thursday nights, immediately following Unsolved Mysteries.
Wednesday, March 16, 2005
LOOKING TOWARDS 2008*
By Stockton
The 2008 Presidential Election is almost upon us. In the next few weeks, candidates will be testing the waters. After that, with only 46 more months to go, it will be difficult to gain ground on candidates who got out there early.
Faced with the looming election, Bad Vernacular has some tough choices to make: Do we endorse a candidate, do we stay neutral, do we promote an 'anybody but....' campaign?
First, we had to determine what kind of President we wanted to see in 2008. These criteria came to mind:
1) Foreign & Domestic Policy experience;
2) Ability to communicate;
3) Intelligence and wisdom;
4) Compassion.
The problem is, many people can lay claim to those attributes. Then it came to us. What did we really want in a President? What did we really want after Reagan, Bush, Clinton and Bush?
After much soul searching we hit upon the answer. A Hot President. Enough with grey-haired southern yokels. We want a hot President: one that looks good in a pair of tight jeans, one with a nice pair of legs, one who will charm foreign leaders and the United Nations. Someone who will look good in a belly shirt and miniskirt while giving a press conference in the Rose Garden. Partisanship be damned.
Unfortunately, our search is limited to Congress and Governors, women who actually have some chance of getting the nomination. But have you seen some of them? And before any angry females contact us, we are hardly saying there is an over-abundance of handsome, male politicians. Quite the contrary. It just so happens we are look for a female candidate. Females looking for 'Hot' male politicians will face the same predicament. The best and the brightest might enter politics, but not the prettiest.
So here are the finalists in our search (and it aint pretty, people):
Reviewing the list of Representatives, the name Virginia Fox (NC-5th) sounded promising: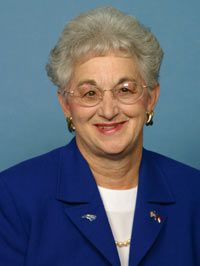 But not so much!**
Joanne Davis (VA -1st) is attractive for an older politician and she appears open minded when it comes to experimenting with certain 'devices';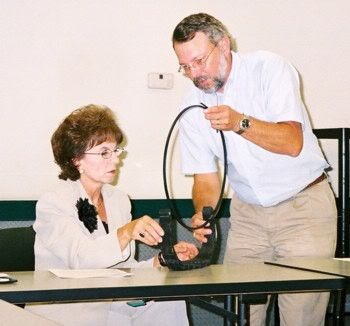 But we don't think she'll pull off the belly shirt requirement.
Melissa Hart (PA-4th) is not unattractive:
But she looks too....well....beefy for our purposes.
This one's pretty cute and probably has a decent supply of sexy clothing:
Still, she might be a bit too feminine for the country.
Anne Northrup (KY-3rd) isn't ugly, but the intern on the right may have a real shot at a future BV endorsement: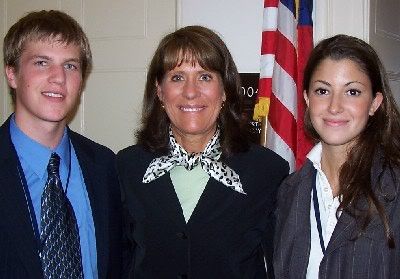 Governor Granholm (MI) looks nice and we like the sultry pout: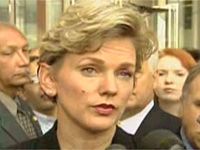 Alas, she was born in Canada.
Finally, a potential contender, Stephanie Herseth (SD):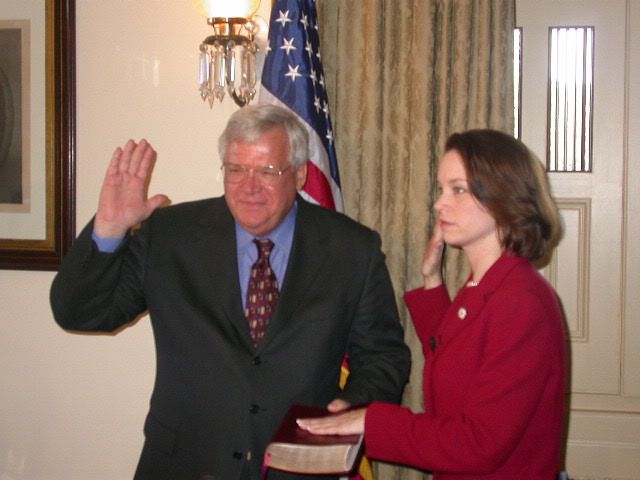 Herseth is on the right. Not shabby for a gal pol.
Lastly, Louisiana's own Senator, Mary Landrieu:
We could live with her too.
If you can think of anyone else let us know. Right now, it looks like Herseth - Landrieu in 2008.
Next week - Nuns we'd like to see made Pope
* Or PWLTF
** This is not, I repeat not, the Virginia Fox that captured our hearts in Bend Over Babes II - IX

Monday, March 14, 2005
CHRISTIAN IN A HURRY
By Stockton
Wis. Sect Focused on 'End Time' Prophecy



By The Associated Press

Terry Ratzmann, the man who police say killed seven people and then himself during a church service, was a member of the Living Church of God, a denomination that focuses on "end-time" prophecies.

The church's estimated 6,300 members in 40 countries place a strong emphasis on using world news to "prove" that these are end times, to be followed by Christ's second coming.

The Charlotte, N.C.-based Living Church of God grew out of a schism in the Worldwide Church of God, formed in 1933 as the Radio Church of God by Herbert W. Armstrong. Armstrong, an Oregon advertising man, preached that Anglo-Americans were Jews, descendants of the lost "ten tribes of Israel."
The schism dividing the Living Church of God and the Worldwide Church of God occurred in 1933. Living Church of God doctrine explicitly stated that Christ would return in 2-3 years while World Wide Church of God members believed Christ would return on Labor Day weekend, 1938. Each faction considers the other heretics.
Earlier, in 1928, another faction splintered from the group. That faction believed that Christ had already returned, didn't like what he saw, and left.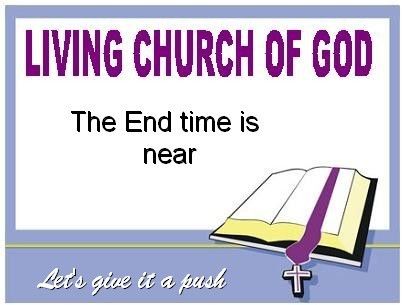 Friday, March 11, 2005
FLORIDA REPUBLICANS ACT TO PROTECT SANCTITY OF MARRIAGE
By Stockton
Republican lawmakers in Florida acted swiftly to block a March 18, 2005 deadline that would remove Terri Schiavo's feeding tubes.
Plans Afoot to Keep Schiavo Feeding Tube


Wed Mar 9, 2005

By MITCH STACY, Associated Press Writer

CLEARWATER, Fla. - Florida's social services agency and Republican state lawmakers acted on two fronts Wednesday to block the March 18 removal of a feeding tube for a woman at the center of a contentious right-to-die case.
"This isn't about the Schiavo's," said one Republican lawmaker. "This is about the government's right to interfere in someone else's personal nightmare and protect the sanctity of marriage in this country. This isn't a decision that spouses should make."
Terri Schiavo, in a vegetative state for 15 years, has become a symbol among the Right-to-a-Feeding Tube crowd, led by a number of Christian Fundamentalist organizations.
Dr. James Dobson is fairly outspoken about the case. "First spousal abuse, then rape, now decade long vegetative states. Their looking for anything that will undermine traditional marriage in the nation. If a vegetative state was a reason to euthanize a spouse, I'd lose over half my congregation!"
If the feeding tube is removed, it will be put up for auction on EBay to help fund more interference in people's private matters.
Wednesday, March 09, 2005
PARTY - SWEDISH STYLE
By Stockton
Swedish feminists have formed their own political party.
Feminists poised to create own political party in Sweden


Tue Mar 8, 2005

STOCKHOLM (AFP) - A new women's political party is set to emerge in Sweden, a country already considered a world-leader in women's rights.



Rumors of the planned feminist party have been circulating ever since one of Sweden's most high-profile feminists, Gudrun Schyman, resigned as head of the previously communist Left Party last year to focus on making gender equality the main theme of the upcoming 2006 general elections.
We like their platform and believe they could make a big splash in the next round of elections. Good luck to Sweden's newest political party.
We'd like to see them go all they way!
Monday, March 07, 2005
OF LIBERAL ICONS
By Stockton
The pantheon of liberal heroes is stocked with many people we admire. There is Franklin Roosevelt, Adlai Stevenson, John Kennedy and his brothers, and the indomitable Hubert Humphrey.
There is one man who deserves equal recognition; a man who not only thought great liberal thoughts, but put them into action. Indeed, his accomplishments may have directly affected more people than most of those named above. Yet, he remains largely forgotten. In some small way, I would like to help rectify his anonymity. Most of you, if not all, know the name. You may not know of the depth and breadth of his accomplishments.
Robert Sargent Shriver is probably best known as being, if not a Kennedy, then of the Kennedys. His marriage to Eunice Kennedy may have served to reduce, rather than enhance, his image and the recognition he deserves.
Shriver held dual citizenship. He was, of course, an American citizen. Further, and unique for the time, he considered himself a citizen of humanity. Some on the right may roll their eyes at such a suggestion. But unlike Shriver, many on the right did not share his experiences. First, Shriver twice visited Germany while in college. The first time was shortly after Hitler came to power. Full blown fascism had not yet engulfed the country. His second trip, a few years later, was different. Hardly a man between the ages of eighteen and thirty was out of uniform. He witnessed political prisoners, their heads shaved, marched into a "camp". That camp was Buchenwald.
But Shriver was more than just a witness. Unlike many of today's leading conservative figures, Shriver served his country bravely for four years during World War II. This experiences made him not an idealist, but an optimist.
His accomplishments are many and his legacy inspiring: Peace Corps, Head Start, VISTA, Job Corps, Community Action, Upward Bound, Foster Grandparents, Special Olympics. All successful programs that have profoundly influenced the lives of millions.
It was at Shriver's urging that his brother-in-law, John Kennedy, reached out to Martin Luther King. This act may have won the 1960 election for Kennedy. Shriver won the respect of Lyndon Johnson, no small task for a liberal and a "Kennedy".
Shriver was seriously considered, though it was not public at the time, for the Vice-Presidency in 1964 and 1968. There are many who believe Shriver would have paved the way for President Humphrey, sparing us the inglorious Nixon years. When his time did come, it was as a replacement on a doomed ticket.
And yes, Shriver was proud and present when Arnold was sworn in as California Governor in 2003.
Shriver is now 90 years old and suffers from Alzheimers. He, perhaps more than all other liberal icons, is worthy of our thanks and respect. Shriver has contributed more to this country and the world than the likes of Delay, Limbaugh, Hannity, Will and Coulter combined. They are mere talkers. Shriver, the unabashed liberal, was a man of action.
R. Sargent Shriver
Friday, March 04, 2005
DID HOBBITS ONCE WALK THE EARTH?
By Stockton
Yes, according to scientists.
'Hobbit' Brain Supports Species Theory



By JOSEPH B. VERRENGIA, AP Science Writer

Scientists working with powerful imaging computers say the spectacular "Hobbit" fossil recently discovered in Indonesia had distinctive brain features that could justify its classification as a separate — and tiny — human ancestor.

The new report, published Thursday in the online journal Science Express, seems to support the idea of a sophisticated human dwarf species marooned for eons while modern man proliferated.

The new research produced a computer-generated model that compared surface impressions on the inside of the fossil skull with brain casts of modern and ancient humans, as well as chimps and other primates.

The scientists said the model shows that the 3-foot specimen, nicknamed Hobbit, had a brain unlike anything they had seen before in the human lineage. The brain is chimplike in size, about 417 cubic centimeters.

Yet the Hobbit's brain shared wrinkled surface features with the much larger brains of both modern humans and Homo erectus, a tool-making ancestor that lived in southeast Asia more than 1 million years ago. Some of those brain features are consistent with higher cognitive traits.

These brain features coincide with physical evidence of advanced behaviors, such as hunting, firemaking and the use of stone tools, which were found alongside the bones in a cave on the remote equatorial island of Flores. To some, this suggests an organized society of tiny hunters flourished on the island for millennia at a time when modern humans dominated the planet.
Anthropologist Andrew Thomas has been able to piece together much about these creatures.
"They were an obnoxious yet ancient people more numerous formerly than they are today. They loved war and tax cuts and were most at home in boardrooms and country clubs. They did not understand or like machines more complicated than missile defense shields or an electric chairs. Even in the ancient days they were, as a rule, hateful of those living in the northeast of their island, calling them 'Elites' and 'out of touch with mainstream hobbitry'. They were quick and nimble and possessed from the first the ability to 'spin' and change the justification for their actions at the drop of a turd. Their faces, as a rule, were good-natured, pasty and white. They were inclined to wear dark suits and light blue ties. They disdained government spending but engaged in it with great delight...."
Scientists at the University of Chicago have created computer-generated pictures of what the creatures may have looked like.
Computer image of the primitive 'Hobbits'
Thursday, March 03, 2005
SAY HELLO TO...
Everybody, please welcome
Court Fool
into our sad, demented, Mansonesque Blog Family. He did a post on Bad Vernacular so he obviously has no taste. Just our kind of folk. Welcome.
A LITTLE BIT 'O' TEXAS COMES TO IRAQ
By Stockton
Iraqi women eye Islamic law


Fri Feb 25, 2005

The majority United Iraqi Alliance supports sharia.

By Jill Carroll, Contributor to The Christian Science Monitor

BAGHDAD - Covered in layers of flowing black fabric that extend to the tips of her gloved hands, Jenan al-Ubaedy knows her first priority as one of some 90 women who will sit in the national assembly: implementing Islamic law.



She is quick to tick off what sharia will mean for married women. "[The husband] can beat his wife but not in a forceful way, leaving no mark. If he should leave a mark, he will pay," she says of a system she supports. "He can beat her when she is not obeying him in his rights. We want her to be educated enough that she will not force him to beat her, and if he beats her with no right, we want her to be strong enough to go to the police."
Ms. Ubaedy went on to say: "You don't beat her like some kind of animal. This isn't Texas. You have to have a good reason to beat her." Ms. Ubaedy lists some of those reasons:
1- Turkey Pot Pie not warm enough;
2- Case of Piels not cold enough;
3- Trailer hasn't been picked up in weeks;
4- Talking too much during Nascar;
5- A US Marine put women's underwear on head;
6- Watching too much "Mosul 90210" and "Ali-ibn's Creek".
"We've waited so long for this moment," said Azira M'bqua. "For years I've wondered if my husband really loved me. He's never bothered to beat me, or even smack me. Not one little bitch slap. Now it'll be his legal obligation."
Other Iraqi's credit George W. Bush. "Without him," said one excited Iraqi, "we wouldn't have the first, legitimately elected Islamic Republic."
Tuesday, March 01, 2005
CUB SCOUTS BREATHE SIGH OF RELIEF
By Stockton
Cub Scout leaders throughout the country beathed a sigh of relief when they heard the news about the BTK serial killer, Dennis Rader.
Rader, 59, a churchgoing family man and Cub Scout leader, was arrested Friday. He remains held in lieu of $10 million bail in connection with 10 deaths, committed between 1974 and 1991.

The BTK killer re-emerged in March 2004, taunting police with letters and packages sent to media outlets. Authorities have declined to say what led them to zero in on Rader, a married father of two and an active member of a Lutheran church.

Police had long linked BTK — the nickname comes from killer's own writings to authorities and stands for "Bind, Torture, Kill" — to eight murders, but they added two more on Saturday after Rader's arrest and said their investigation was continuing. A source close to the investigation said he had confessed to six killings.
"We're just so glad he's a churchgoing man," said Scout leader John Richards. "It would have been embarrassing if he turned out to be an atheist or something strange, like a pagan. Oh yeah, and he wasn't gay. It's important that people know that our scout leaders are not gay. Rader may burn in hell, but not for being gay!"
Scout Leader Rader: "At least he's not gay."