Monday, January 24, 2005
IT'S JUST SO SAD
By Stockton
Braveheart Becomes Role Model for Christian Men


Sat Jan 22, 2005

By Nigel Hunt
LOS ANGELES (Reuters) - Movies like "Braveheart" and "Legends of the Fall" are on the viewing list for men in a growing Christian movement that calls for them to throw off their "nice guy" personas and emulate warriors.

The book which inspired the movement, John Eldredge's "Wild at Heart," has already sold 1.5 million copies in English and been translated into 16 languages, most recently Korean.
Eldredge believes many Christian men have become bored, "really nice guys" and invites them to rediscover passion by viewing their life's mission as having a battle to fight, an adventure to live and a beauty to rescue.
And if that's not enough:
Jim Chase, an advertising copywriter from La Crescenta, California, has had a replica of the sword actor Mel Gibson used when he played legendary Scottish warrior William Wallace in "Braveheart" hanging above his desk since attending a Wild at Heart retreat with 350 other men last year. "It is just a reminder that we are in a battle every day. It can be just facing boredom and routine, but it is a battle," Chase said.
It has not all been positive for Chase. "Initially, I got some pretty strange looks at work," said the 34 year-old virgin. "I think it was the kilt that threw them. It's very liberating."
"It's just fucked-up," says Chase's co-worker, Natalie DeWine. "Every time you try and tell him something he just shouts, 'Freedom!'. No one will even go to lunch with him anymore. He's always bringing hagus and it smells so fucking bad. Fucking loser."
Anson Potter, a behavioral specialist at New York University says it may be dangerous to base your life on a movie character. "Movies aren't reality. I'd bet that Mr. Chase has never even read a book about the real William Wallace. He's essentially basing his life on a Hollywood character, not an actual historical personage."
If you must base your life on a Hollywood character, Potter suggests taking a long look at what's out there before making your decision.
Bad Vernacular would like to make some suggestions for those who choose to go this route. There are many good Hollywood characters and here are just a few: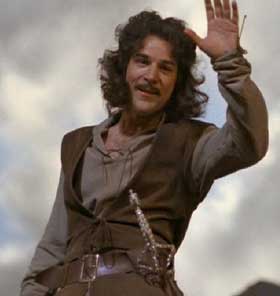 Best of all, no kilts.