Saturday, January 29, 2005
BUSTER CAUGHT IN LESBIAN ROMP
By Stockton
Beloved by children around the nation, Buster Bunny has been caught in a lesbian romp in of all places, Vermont.
PBS rebuked for cartoon's gay theme


By Ben FellerAssociated Press Published January 26, 2005



WASHINGTON -- The nation's new education secretary denounced PBS on Tuesday for spending public money on a cartoon with lesbian characters, saying many parents would not want children exposed to such lifestyles.The not-yet-aired episode of "Postcards From Buster" shows the title character, an animated bunny named Buster, on a trip to Vermont, a state that recognizes same-sex civil unions. The episode features two lesbian couples, although the focus is on farm life and maple sugaring.





A PBS spokeswoman, Lea Sloan, said late Tuesday that the non-profit network has decided not to distribute the episode, called "Sugartime!," to its 349 stations. She said the Education Department's objections were not a factor in that decision."Ultimately, our decision was based on the fact that we recognize this is a sensitive issue, and we wanted to make sure that parents had an opportunity to introduce this subject to their children in their own time," said Sloan.WGBH, the Boston public television station that produces the show, plans to make the "Sugartime!" episode available to other stations, and will air the episode on March 23, she said.





Education Secretary Margaret Spellings said the "Sugartime!" episode does not fulfill the intent Congress had in mind for programming. By law, she said, any funded shows must give top attention to "research-based educational objectives, content and materials.""Many parents would not want their young children exposed to the lifestyles portrayed in the episode,"





Spellings asked PBS to consider refunding the money it spent on the episode.The department has awarded nearly $99 million to PBS through the program over the last five years in a contract that expires in September, said department spokesman Susan Aspey. That money went to the production of "Postcards From Buster" and another animated children's show, and to promotion of those shows in local communities, she said.The show about Buster gets funding from other sources.In the show, Buster carries a digital video camera and explores regions, activities and people of different backgrounds and religions.
"It's down right disturbin'," said Milt Washburn, of Little Rock, Arkansas. "Sugartime? I'll bet it's sugartime. I don't know what the kids mean when they say 'tapping the maple sugar' but I gots a gosh darn good idea."
Ralph Boone, of Hannibal Missouri, agrees. "I understand two hot chicks, but throwing in a bunny? That's just plain sick."
Buster is no stranger to controversy. He was caught on film, in a hotel, while attending the 2000 Democratic Convention.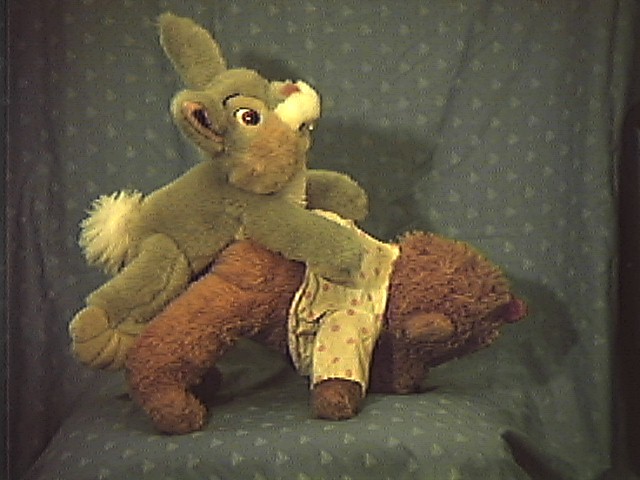 Buster and unnamed Teddy Bear at 2000 Democratic Convention
There's more about Buster's degenerate lifestyle
here
. But be forwarned. It's not pretty.