Tuesday, March 07, 2006
COME JOIN US
Stockton & Tweed have moved. Feel free to come and join us at our new home......
Smorgasblog! *
* A subsidiary of Con-Huge-Co.
Monday, November 07, 2005
INDICTED
Due to indictments, Stockton & Tweed are on temporary hiatus. If we can locate our passports we might not be back.

Despite everything you might hear, we are almost completely innocent.

Monday, October 24, 2005
TRAITOR RUNS FOR SENATE
By Stockton
Ohio War Veteran Running for Senate

By DAN SEWELL, Associated Press Writer Mon Oct 24, 2:54 PM ET

CINCINNATI - Paul Hackett, the Democratic veteran of the Iraq war who narrowly lost a special election in a heavily Republican congressional district in August, made his official entry into a U.S. Senate race Monday.
The conservative base of the Republican Party is outraged that Hackett is running for office. Some have even called for the imposition of treason charges against the former military man.
"It's a said day in America when a man like this can run for public office," said one anonymous Republican. "Where was this man Hackett when his country needed him?"
Others agree. Stewart Pinckney, a Republican activist had harsh words for Hackett. "Here's an alleged American who wants to be a senator. Yet, where was he when Cindy Sheehan beseiged the President in Crawford, Texas? Where was he when Democrats gave aid and comfort to the terrorists during the Republican Convention? Where was he when Massachusetts decided to make man-on-dog sex legal? He was in Iraq, with his tail between his legs, not on the front lines with us!"
Friday, October 14, 2005
EXCUSE ME, WHERE DO I VOTE
By Stockton
RAMADI, Iraq (Reuters) - Hours before a crucial referendum on a new constitution, voters in western Iraq, where many are expected to say "No," were asking themselves a troubling question: where are the polling stations?

"There are no voting centers in cities like Haditha, Hit, Rawa, Qaim, Ana, Baghdadi and the villages around them," Mahmoud Salman al-Ani, a human rights activist in Ramadi, said on Friday, listing locations across western Anbar province.

"There aren't actually any voting centers or even voting sheets in these cities ... Nobody knows how and where to vote if they decide to," he said of the predominantly Sunni Arab region.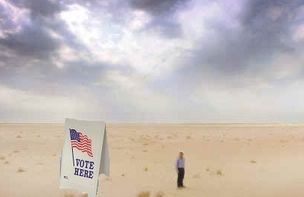 "I know it's a bit unsettled here," said one would-be voter. "But for Allah's sake, it's not Florida!"
Friday, October 07, 2005
WOMEN MAKE GAINS IN IRAQ
By Stockton
Just two and a half years after invading Iraq, Bush's promise to bring western-style democracy to the Middle East is showing signs of success. In a region of the world where women are often times less valuable than sundry goods and chattel, Iraq is becoming a beacon of male-female equality.
By LEE KEATH, Associated Press Writer Wed Sep 28, 2005

BAGHDAD, Iraq - A woman disguised in a man's robes and headdress slipped into a line of army recruits Wednesday and detonated explosives strapped to her body, killing at least six recruits and wounding 35 — the first known suicide attack by a woman in Iraq's insurgency.

The attack in Tal Afar near the Syrian border appeared aimed at showing that militants could still strike in a town where U.S. and Iraqi offensives drove out insurgents only two weeks ago. A female suicide bomber may have been chosen because she could get through checkpoints at which women are rarely searched— then don her disguise to join the line of men, Iraqi officials said.
Bush insists that the traditional glass ceiling in the terrorist world has finally been broken. "This goes to show you that Iraqi women are entering fields traditionally open only to males. It's just one sign of success and they have us to thank. We are firmly resolved to be resolute!"
Other signs of Iraq's embrace of western-style democracy: progressives have besuccessfulful in reforming many aspects of the penal law, blunting some of the harsher aspects of Middle-Eastern punishment. For instance, a woman adulteress will now only be hacked into seven pieces rather than the traditional eleven.